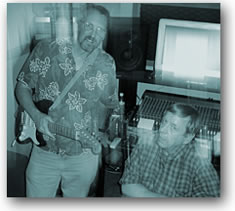 © John Blair, All Rights Reserved
Working with acoustic guitars proved to be such an interesting departure from the usual approach to rock instrumentals that it inspired more recordings over the next few months in the same "unplugged" style. By May 2007, Blair and Tippens had finished an eclectic set of recordings that reflected their different musical backgrounds and influences. The tracks range from the exotic and laid back "Adventures in Paradise" to a rousing, near-bluegrass arrangement of The Ventures' "Gandy Dancer" and acoustic guitar arrangements of original compositions recorded by the pair's earlier surf bands. The sound of the production varies from the use of only two guitars and bass to multiple overdubs involving different stringed instruments and light percussion. The tracks are currently being considered for a CD release.
John Blair is a BMI songwriter (Wet Song Music, administered by Bug Music); Marty Tippens is an ASCAP songwriter (Tippytunes Publishing).